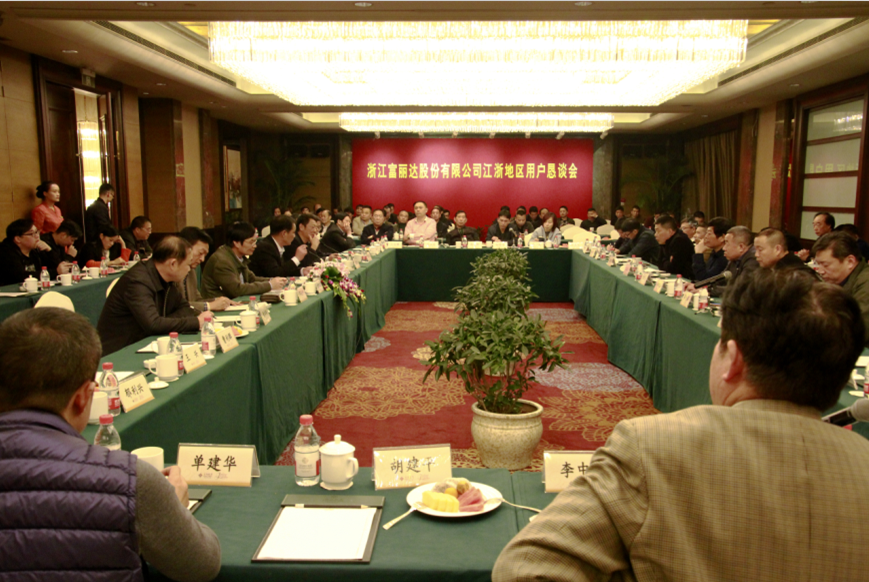 In the afternoon of November 23rd, in order to further strengthen the communication and close contact with the user, understand the needs and suggestions of users, bring better products and services to promote common development, Fulida stock held the grand democratic communion of the areas of Jiangsu and Zhejiang in the Xiaoshan Golden Horse Hotel. The leaders of group company and Fulida stock Gao Dexian, Dong Shengde, Wei Jianmin, Deng Zhiping and Zhang Yuzhong and other 120 user representatives gathered together and discussed on the development.
The secretary of party committee of the group, the director of Fulida Stock Gao Dexian made a speech on the communion, Fulida Stock, a subsidiary of Fulida Group, is one of the top 500 private enterprises in China, founded in 2004, which is specializing in the production of viscose fiber products. Since the production, with the continuous construction and technical transformation, the company has formed an annual output of 180,000 tons of viscose fiber production capacity, and walked in the forefront in brand building, energy saving and other aspects of the industry.
Gao Dexian stressed that we Fulida Stock has always been upholding the "mutual benefit and common development" concept of cooperation, and striving to practice "customer first, high-quality service" principle, and actively doing a good supply of viscose fiber products, trying hard to meet users' needs. At the same time, in the process of servicing users, we also get the help and support from users. To this end, we would further strengthen the sense of service, organize better glue production, and continuously improve product quality for strengthing our common development of management.
At the dinner of the communion, the chairman of the group, president Qi Jian Seoul spoke highly of the results of the communion, he pointed out that we walk together for the common cause, we became friends for the sincere cooperation. This democratic communion of the areas of Jiangsu and Zhejiang provides us a platform for communication and communication, it makes sense for the majority of users providing us valuable advice and suggestions, which will play a great role in promoting Fulida's future development. We will cherish this rare opportunity, humbly accept user suggestions and opinions, and strengthen cooperation, intentions to build our products.
(Source: 《Fulida Newspaper》)