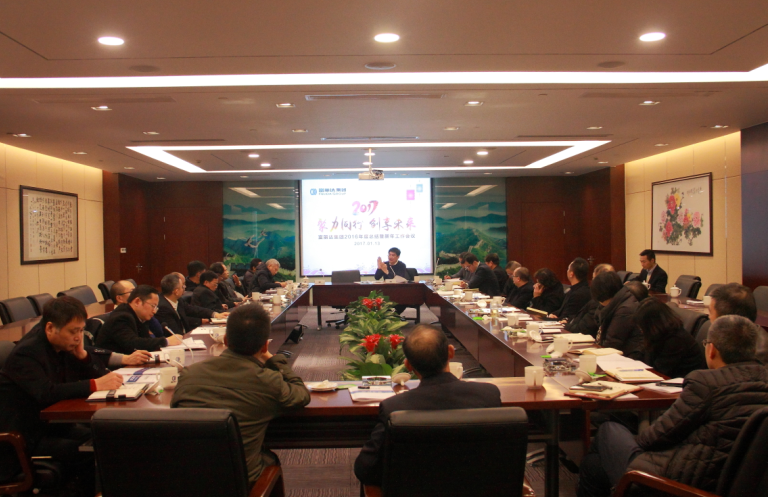 In the morning of January 13th, the group company held the 2016 annual summary and new year work conference. The conference summarized the work in 2016, analyzed our facing situation, explicited the work ideas of 2017, and also arranged the key work. The conference mobilized the broad masses of cadres and workers to firm confidence, roll up sleeves and refuel for the work, and strive to achieve the Group "the 13th five-year plan" goal and healthily develop and open a new prospect. Chairman of the Group, president Qi Jian'er made the work report. TheSecretary of Party Gao Dexian presided over the meeting. Members of the board of directors, the units, department heads and other 29 people attended the meeting.
At the conference, after listening to the speech from all units and departments, Qi Jian'er sorted out and summarized the main assessment indicators to the business management, development ideas, resource allocation, internal management, innovation breakthroughs and other work carried out one by one in 2016. He said that in the past year, we adhered the development ideas of "strength mainline , quit sideline, moderate transformation", to overcome the low textile industry terminal demand, fierce market competition and other challenges to maintain the smooth operation of overall economic.
In the face of the new year, Qi Jian'er required that all units and departments further enhance their confidence in the depth of industry, plan ahead, be goal-oriented, strengthen management, establish innovative ideas and promote the work into a new level. He pointed out that the current sharing economy is carried out by recycling resource through enhancing the consumption experience to create the value of the economic scene, increasing the fun to create the demand for the entertainment economy, sharing products, production, creativity, etc, which brought us a lot revelation. It will bring new changes to the future of the textile industry. He wished that everyone should try more times in the business model, e-commerce, cross-border integration, and combine the market "big data", highlight their own advantages, focus on the target areas, dig potential extension, embrace the future, product and develop more marketable new products by guideing consumption, to create a new prospect in the cause of Fulida!
(Source: 《Fulida Newspaper》)